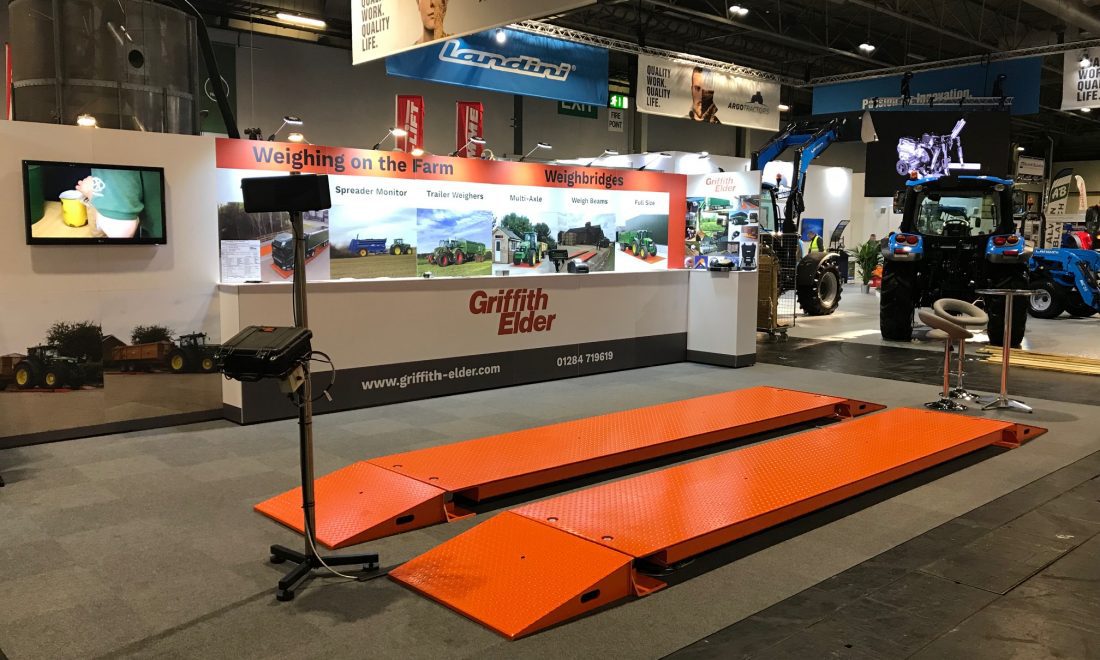 Griffith Elder Weigh-Beams Displayed at LAMMA 2019
---
This year marked a new era for LAMMA with the show moving into the shelter of the NEC in Birmingham. After the weather cut the show short last year exhibiting in a warm, large exhibition space was a welcome change. Commutable and with no danger of any wind damage, I think most will agree it was a positive change. Griffith Elder secured a prime spot this year, with a great open space right next to the hall entrance. On display we had a set of working 4.4m portable weigh-beams with large display indicator.
The Weigh-Beams in Action
Impressed with not only the speed and accuracy of the weighing system, our visitors also saw how clearly the weight would be displayed by the indicator without the driver having to get out of the cab. To demonstrate, we used the WB6 indicator and radio ID fobs. Each fob is kept in the cab and when pressed, the indicator recognises the vehicle immediately.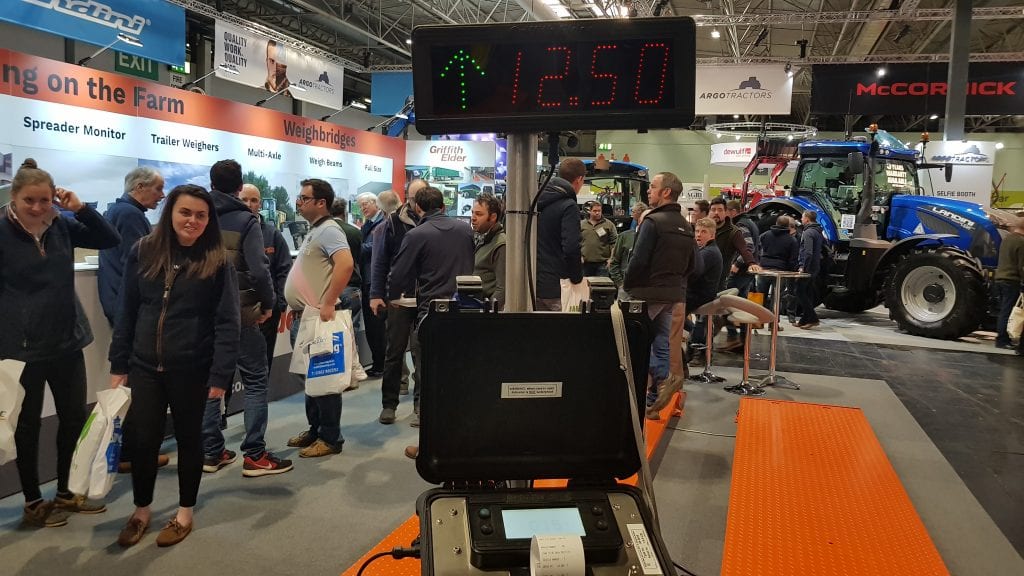 Weighing a vehicle is a quick, driver-only operation. The traffic light tell you when to move forward and the indicator automatically captures the weight and totalizes it for you. Our portable weigh beams deploy the Griffith Elder Split-Weigh system, which is an established method of accurately weighing a vehicle. Tractor trailers are weighed in two parts; and artics and wagon-and-drag in three parts. The large external display shows the weight in big red LED digits consequently making the information visible to the driver immediately. At the end of the weighing the display will show the nett weight of the product load.
Farmers also commented on the convenience and ease of the weigh-beams being portable, whilst still heavy duty, an essential requirement in rugged environments such as farms. They require no special installation and an easy-to follow instruction manual comes with the kit. Plug the cable in and the Beams are ready for use! The entire system runs from 12 volts DC and re-chargeable internal battery; with the ability to link a car battery for added run-time. With no mains power needed, this gives maximum flexibility for using the weigh-beams in remote locations. A solar panel is also available to charge the battery.
Other Products
You might also be interested in our Multi-Axle, an economic fixed weighbridge or our Full-Size weighbridge, ideal for those needing to buy and sell on weight.
If you had any questions about our products, or think our weigh-beams are the way to go for you, please contact our sales team at sales@griffith-elder.com or give us a call on +44 (0)1284 719619.
Hope to see you again next year at LAMMA 20!

agriculture
,
farming
,
LAMMA
,
scales
,
Software
,
weighbeams
,
weighbridges
---
Share with others