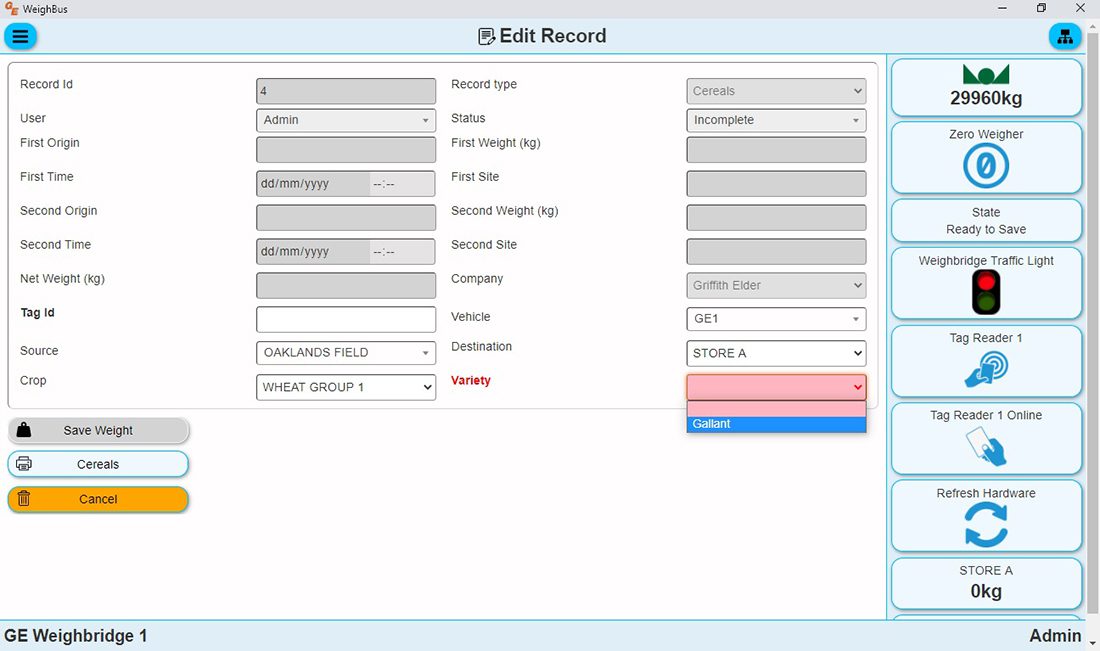 Weighbridge Software Mobile Phone Connectivity & Customisation
---
Weighing on the farm and weighbridge software replaces guess-work with truth. Take control of your profits by weighing and recording important data. This is the only way to truly understand efficiency, inputs and crop performance.
We have made weighing on the farm our focus for almost 40 years. This has given us the knowledge and understanding of real farm requirements and conditions. Enabling us to produce a wide range of robust, low maintenance and practical weighing products that are fit for farm use.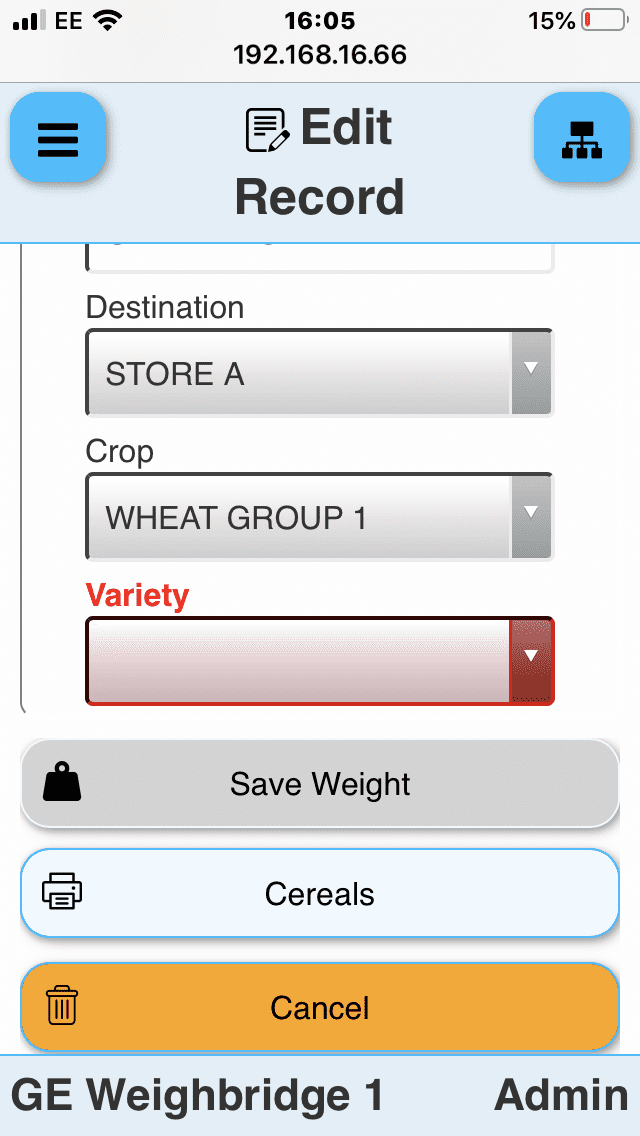 Griffith Elder weighing solutions provide farmers with methods of  reporting weight and associated data, across the whole farming cycle.
Our range of weighbridge software has been in use on farms since the 1990's. This has enabled us to gain a vast amount of experience and knowledge about how our customers operate and what they need from weighbridge software.
It is clear that every farm business operates differently and to be truly useful, software must reflect this by providing the flexibility to meet a wide array of customer's needs. Yet the operation must be simple and reliable.
Weighbridge Software on Mobile Phone, Tablet or PC
Our latest Weighbridge Software range 'Weighbus' is focused on bringing together the experiences gained from our customers. The weighbridge software can be customised and has connectivity via Mobile Phone, Tablet or PC.
Weighbus allows the customer to configure the operation, data collection and reporting exactly as required.
Weighbridge ticket types can be created that cover different aspects of the business operations. Configuration is made to collect only the exact data that is needed for that part of the business. It is even possible for more than one business to operate over the same weighbridge each printing their own ticket. Data requirements can be set to be optional or demanded to ensure the weighing operation can not be completed without recording the data that is needed by management.
The weighing process and data capture can be carried out manually or unmanned using the driver, remote FOB button system. In farming the FOB system allows data such as the field, crop, store and user defined data to be saved automatically and instantly at the time of weighing with a press of the button.
Any device on the network can connect to complete a weighing; mobile phone, tablet or computer. Use you tablet or mobile phone to operate the weighbridge software as if you were in the weighbridge office.
Tractor drivers can save their weight while positioned on the weighbridge via their phone. It is also possible for them to select any of the data to be saved with the weighing like field, crop / variety & store.
There are additional hardware options available. For example our camera add-on captures an image of the vehicle on the weighbridge and is saved with every weight record.
The Weighbus system allows flexibility in connectivity while maintaining security. All operations can be controlled via user logins with permissions defined by the management.
The same flexibility of setup carries through to reporting. User configured reports are created to create CSV files only including the data needed. This enables multiple reports to be run as and when required. Reports are run manually or automatically with a scheduler. The CSV files are saved to a chosen location on the computer or network. These can be opened in a spreadsheet  or imported into other business management software packages.
Weighbus can be setup to simply provide complex requirements and at the heart of this is our desire to understand our customer's needs to provide the best solutions.
See our Full-Size weighbridge, the ideal partner to our weighbridge software.
Please contact us via sales@griffith-elder.com or telephone on +44 (0)1284 719619 to see how our weighbridge software can work for your business.
agriculture
,
farming
,
Software
,
truck scales
,
weighbridge
,
weighbridges
---
Share with others